Julia Stout, Welcome Address
Good morning and welcome! I would like to thank everyone for coming here this morning to support us as we, the Mount Royal Academy Class of 2023, cherish our final moments as students of this remarkable school. 
Yesterday at our Baccalaureate Mass, our school community came together in the Holy Mass for the final time this school year. Not only did our class receive spiritual guidance and a blessing for our future, we also were able to offer our thanksgiving to God for our lives, our friendships, our families, our faith, and most importantly in that moment: our education. 
Mount Royal's mission "to educate the whole person through the spiritual, academic, and human formation of each student" is fully realized in the exceptional faculty and staff here. Combined with the direction and cultivation by our parents and all those who love us and care for us, we have received an education and an upbringing that has allowed us to recognize our distinctive and unique qualities. 
Throughout the Bible, the word beloved is used many times. In any of the different contexts and books of the Bible it is used in, the beloved is always one who is deeply loved and cherished; set apart for a love that is greater than any other. In the New Testament epistles, the word beloved is used to recognize our place in the world as children of God. So too, in this way, Mount Royal recognizes the God-given dignity and worthiness of all its students and treats them as the beloved of God. 
Every single day, without fail, the faculty here at Mount Royal Academy strive to uphold the intrinsic dignity of others while teaching the students by word and example how to love, teach, and care for one another. This is what Mount Royal aims to do and this is why this school is such a great source of truth and goodness for everyone around it. I am incredibly thankful to the faculty, my class, and all of you here (and not here) who have helped us realize our own God-given dignity and taught us how to show to others that they are the beloved of Christ. 
As the Class of 2023 steps into the final moments of our "highschool career" (as Mr. Tremblay would call it), I am pleased to welcome you this morning and I thank you all for the support and love you have shown us during our time at Mount Royal Academy. At this time I'd like to invite Mr. Tremblay to the stage to introduce our keynote speaker.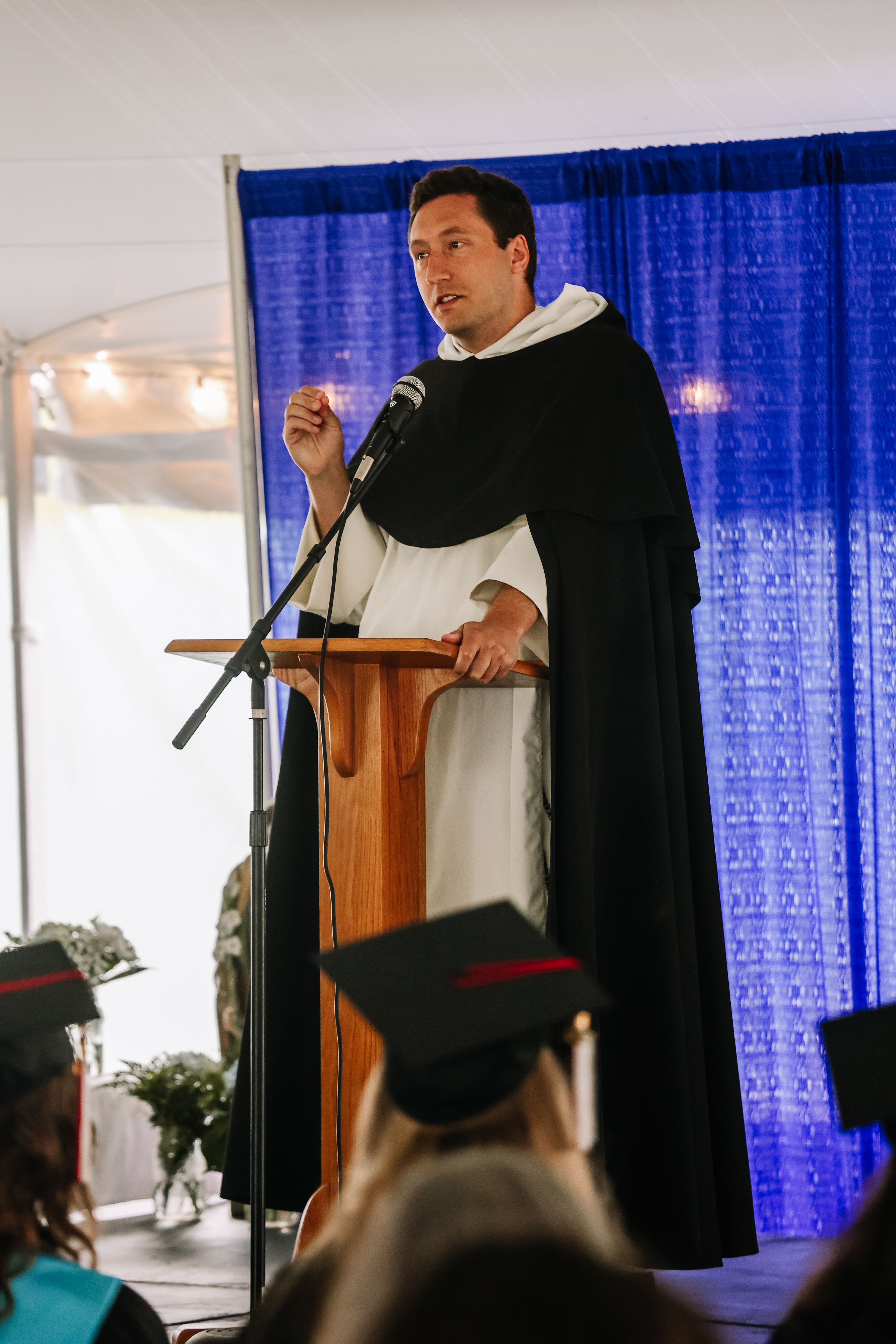 Introduction of Fr. Timothy Danaher, Mr. Derek Tremblay
Thank you Julia for opening this occasion. I want to publicly acknowledge your leadership and service to the mission of our school! If anyone here is not already aware, you should know that Julia and Anya successfully started the Students for Life chapter for our school. This is the best expression of living the works of mercy. Julia opened the occasion in part to honor the role of her parents in starting this sacred mission. I am eternally grateful to Greg and Ann for all they have done for us! Now Julia is her own person, and I happen to think she is quite the special one, and I will surely miss you! 
Before I introduce our commencement speaker, I would like to formally welcome Paula San Emeterio and her family back to our campus. Paula was a member of this class for three years before she embarked upon a cultural excursion to Italy. I can't imagine it was hard to go to school in such a beautiful country, so I am not sure you missed us Paula, but we sure missed you. We are delighted that you are here to participate with the class in celebrating both the end and beginning of a new chapter in our lives. 
Similar to a college commencement, our school has a penultimate tradition of providing one final lesson for our graduates. This is a commencement address. We are pleased to welcome Fr. Timothy Danahan, who serves as the Chaplain at the Aquinas House at Dartmouth College. He is a Dominican priest, and he even dressed up for us today in his formal attire! 
Fr. Tim sent me his resume to review so I could formally introduce him. That was kind of exciting to review. I was surprised to discover he used to be a salmon fisherman. I really can't picture Fr. Tim thriving or even surviving at sea because he is such a social and affable guy! I guess he took the passage seriously when Jesus said he was going to make his disciples fishers of men. Maybe there is a story there. Maybe he will even share that story with us now, I really don't know. I do know Fr. Tim is not afraid to be spontaneous, and while we see him without his banjo today - which means he won't be playing any bluegrass for us - he remains in persona Chrisiti. Fr. Tim has pinch hit for Fr. Michael to celebrate the sacred liturgy for our students, and this past year he delivered a memorable homily. I mentioned this to him recently, and he commented back that he forgot what he said. I guess there is a grace to forget sins and homilies that we didn't know about. Please join me in welcoming Fr. Tim!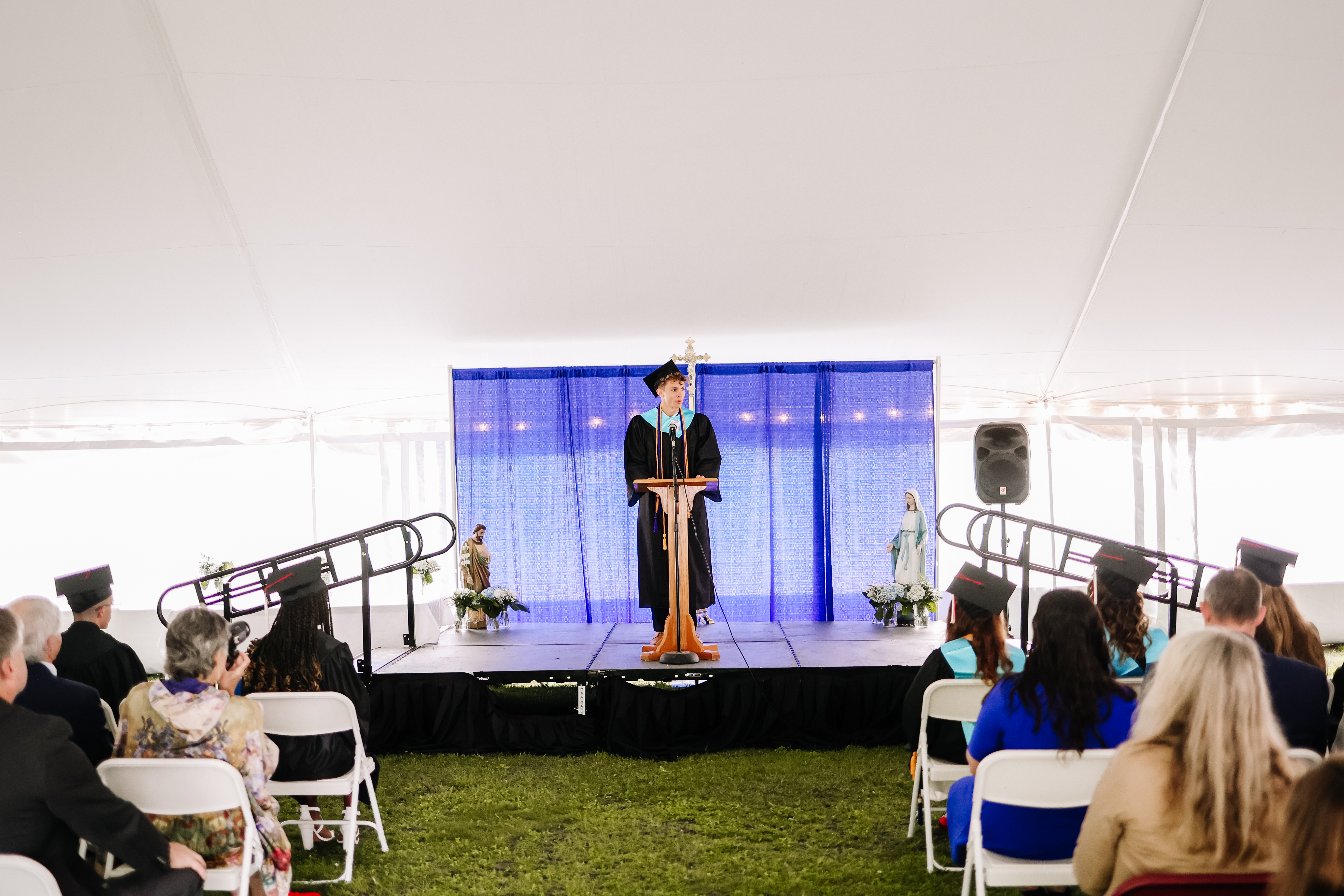 Luke Kalpakgian,

Student Address

I could spend so much time saying all the "Thank you's" that are for the countless people who have helped us along this journey that has gotten us here. I could spend so much time reminiscing about all the good times we have had and all the things we have learned. I could talk on and on about all the memories and special moments; the good and the bad; the happy times we have had and the sad times too. But that is not what I want to do. No one wants to hear that, and I am sure that we have had enough from our Senior dinner on Thursday. I want to talk about something else. That something is our purpose.

This concept of purpose is extremely important for us everyday of our lives. It is the reason why we are even living. The reason why we are here. Why we continue to be here. Why we even get out of bed every morning. Our purpose is what animates our lives. It is the objective that we work and live for. But because of free will, we can choose our purposes or goals in life. It is not forced upon us. And yet we all have the same end. That end is to be with God in heaven. We are all called to give up our own selfish desires and to love Him above everything else. 

What Mount Royal has tried to do is make us recognize for ourselves that this is the point of our lives and prepare us fully and adequately to accept it as such. Everything that they have taught us was to prepare us to reach our end. All the seemingly useless algorithms or poems or whatever were all there to teach us how to love God better. We did not learn them for the sake of just becoming smarter. Yes, we are supposed to better ourselves in all aspects but we do that in order that we can more fully answer our vocational call to sanctity through whatever path life takes us. This is the mission of the liberal arts: to not just make us smarter or more intellectual. But to make us better, well rounded humans. That is why we do not have an education that just prepares us for a future career. That is not our end. That is not our purpose. Our teachers would be at fault if this is all that they did. We are more than our ability to making money. There is something higher and greater to life. We are called have a correct understanding of the world. We must see this as a step to something higher. That does not mean it is completely useless and futile, but that there is something greater above it. 

But sadly the world does not believe in this. They believe in something a little more self centered. They say that you just have to "Love yourself and do whatever you can to make your life better."  It is easy to follow their mindset. It is so natural. But this will only lead to pain and more suffering. We have all of history to back up this claim. We have to give up our life to God who gave it to us. If we put ourselves first, life becomes lonely and sorrowful. This is not what we are made for and so it will not make us happy. We are called to be with God who is the only thing that truly satisfies us. And so this is what Mount Royal has spent 14 years in some of our cases trying to do. To make us see our purpose. To prepare us to reach that end. To help us love God. This is what the point of it all was. Thank you.
Anya Moorehouse, Student Address
On behalf of the Mount Royal Academy class of 2023, I once again welcome you, family, friends, faculty, and fellow students to this commencement ceremony. Thank you all for supporting us on this momentous occasion. First, I would like to recognize and thank some especially influential and deserving people.
Faculty, thank you for your relentless dedication to our formation, both intellectual and spiritual. We do not tell you enough how grateful we are to have had your loving example of what it means to be servant-leaders.
Parents, thank you for choosing to send us to Mount Royal. It is not a coincidence that such a group of exceptional seniors have such exceptional, sacrificing, and virtuous parents.
In a special way, we would also like to thank Fr. Michael. Your spiritual guidance and, above all, your example, have been an invaluable asset to us over the past three years. You have had more of an impact on our lives than I am sure you realize.
And of course, we would like to thank God. I truly believe that His hand is moving in a very real way at this school.
When I first walked through the doors of this school in 2014, wearing my new plaid jumper and knee socks (very different attire from what I was used to as a homeschooler), I didn't quite know what to expect from this unfamiliar school with all its unfamiliar faces. To be quite honest, I did not want to come to Mount Royal at all. As a nine year-old, I was comfortable with the familiarity of my life in Massachusetts before moving to Sunapee. In hindsight though, I can confidently say that coming to this school has been one of the greatest blessings. I know I speak for my classmates as well when I say this place and these people have formed me in unprecedented and extraordinary ways. 
Our education we have received has taught us how to think critically and deeply, not simply to regurgitate information. But even more important is the spiritual formation we have received here. For the past years (four years for some, fourteen years for others) we have been taught the truths of our Faith and have been able to experience God's grace through the sacraments, an extraordinary gift that I took for granted all too often.
In a way, our time here emulates Sts. Peter, James, and John's experience of Jesus' Transfiguration. Here, atop this "mountain" we are surrounded by God's glory as they were; it is easy to see and to feel His presence. But we are reminded, as the Apostles were by Jesus, to "Rise, and have no fear." We are not meant to stay on the mountain, however comfortable and beautiful it may be. We are commanded to go out into the world, to go on mission, to spread the truth we have come to believe on this mountain. Our teachers have prepared us for this moment: to leave this safe haven, this mountain, and bear courageous witness to the truth of the gospel. 
This, I believe, is the greatest accomplishment of this remarkable school: forming young men and women to be heralds of the Good News in a world that so desperately needs to hear it. Thank you again, and congratulations to my fellow graduating seniors. God bless you all.
Semper Altius Award, Mr. Derek Tremblay
Rather than rank students purely based on academic performance, our mission traditionally affirms one student based on our sacred mission. The Semper Altius award is bestowed upon one graduating student who has been the model of a Mount Royal Academy student over the course of his or her high school career. And similar to the very by-laws which denote our schools' consecration to the Blessed Mother, this award affirms the recipient's imitation of Our Lady in the life of grace and holiness, the fruit of which is evidenced by a virtuous disposition and its consequent effects. These effects are nothing other than the fruits of the Holy Spirit: charity, joy, peace, patience, kindness, goodness, generosity, gentleness, faithfulness, modesty, self-control, and chastity.
But sometimes, it is hard to choose just one! So let it be known, stare decisis, there is a precedent for honoring two students when it is essentially unjust to distinguish between two candidates. This is one of the humanizing hallmarks of our mission: we do not rank students, rather we acknowledge the best manifestations of this growth in holiness and the pursuit of excellence not simply in the things of this world, but also the divine order of grace. 
One final comment about this award, and it is always worth repeating: for as much as this honor goes to the recipient, it also is a testament to the first school of life, the family. And for that, I want to thank these parents for the gift of their children, and for their steadfast devotion to shaping God's children into saints - with His grace of course! 
Luke Kalpakgian - AKA Bishop Fulton Sheen reincarnate - oops, someone call the heresy police on Mr. Tremblay because there is no such thing as reincarnation, only resurrection - honestly looks like he could be Bishop Sheen. Last I heard or knew of, he may even practice a special devotion to this Venerable Servant of God. Fitting because Luke takes seriously the things of God, and he has a certain flair for the dramatic coupled with an obsession for order and beauty. These are observable qualities for most of us, but what I find most compelling about Luke is he knows where to go to grow holy, and that is daily Mass. Luke has been a culture leader in our school for years and I am so grateful for his service to our mission. I am also honored that Luke sponsored my son Andre for his full reception into the Mystical Body of Christ. I told Andre he needed to identify a good role model for practicing our faith. Kids, they say and do the darndest things. Luke is also the ultimate renaissance man. There is nothing he tries that he does not succeed at, and he represents the fullest expression of what a liberal arts formation can do for a person when a person intrinsically embraces truth and beauty in all forms of knowledge and activity.
Anya Moorehouse. I think it is more appropriate to pick on boys than girls so I won't do that to you! Anya carries herself with such grace and beauty. I have never heard her say an unkind word about anyone! Maybe she does behind closed doors, but there is something even beautiful and humanizing about that! If anyone here is not aware, allow me to make it so, and that is you cannot win a debate against Anya! She is a deep person, with a broad and incisive intellect. One of the best compliments I ever received is when Anya commented that I am a good teacher! It means a lot coming from a student who is intellectually capable of challenging all her teachers. I think Anya represents authentic femininity, and in a world that desperately needs women to honor other women for what it means to be a woman, all young ladies can look to Anya as a testament to maintaining integrity and living virtuously in every social setting: family, occupation, and even friendship. That is what Anya is at her core, she is a friend. Wouldn't it be nice to be capable of real friendship, willing the true good of others, and never demeaning people because they are people? Thank you for modeling that for all of us Anya. 
Concluding remarks, Mr. Derek Tremblay
Almost done! If you don't mind, I was going to draw this out a little longer because I love you all so much! But honestly I have been thinking and praying about what to say here in these last words, and I took a different approach. For most of this year, I've been asking Jesus to give me a sense of what to say to such a special group of young people. It is a lot of pressure, and contrary to what you all may see as something I enjoy doing, this moment frightens me. 
I think this is in part because of what commencement addresses have become, and in my humble opinion (even though I try not to impress my ideas, much to the chagrin of some students in this audience), what commencement addresses have become is a reflection of what our culture has become. Rather than lament the elements of our existence that don't make sense, I thought it might be better to give you fine young people some practical tips to make sense of reality. 
The right starting point is decisive for any endeavor. And the right start pointing is best understood as a question. 
What is the purpose of this moment? This moment is for you. It is not for us. It is not for society. The highest good we are here to celebrate is the goodness of all of you. We are not here to recite platitudes that we think will make it better. We are here to affirm that your personhood, as an embodied soul, a divine creation, is worth every sacrifice it took to get you here because God declared it so! 
So once we get the right starting point established, the purpose of the moment, a next natural question develops: What is God calling me to do at this moment? 
I hope you don't mind but I intend to cite the two most inspirational men to me to answer this question for us, because I don't consider myself qualified to do so. 
Jesus said to his disciples: "As the Father loves me, so I also love you. Remain in my love. If you keep my commandments, you will remain in my love, just as I have kept my Father's commandments and remain in his love. I have told you this so that my joy might be in you and your joy might be complete."

Saint Thomas Aquinas said: "As a person is, so does the end seem to him." 
The divine provocation found in each moment is singularly a call to love. Identify the purpose, respond in and with love. 
How do I respond in love to this moment? This is where it becomes tougher to navigate, and for that I think we need to refer to St. Paul for cautionary dynamics that necessitate a certain intellectual virtue Saint Thomas Aquinas identified as the "charioteer of the virtues". 
"Let us, then, be children no longer, tossed here and there, carried about by every wind of doctrine that originates in human trickery and skill in proposing error. Rather, let us profess the truth in love and grow to the full maturity of Christ the head. Through him the whole body grows, and with the proper functioning of the members joined firmly together by each supporting ligament, builds itself up in love." - Saint Paul to the Ephesians
Moral courage may be the virtue missing most prominently in our cultural discourse, but prudence is fundamentally how to get the good done; we need to be courageous but even more so prudent in the spiritual and practical components of communion, prudent practitioners of self-giving love. 
Ideas become actions in response to reality. Prudential thinking puts into practice the correct ideas in an appropriate response to reality. Prudence is "practical wisdom that empowers one to be good and act well in daily affairs, both ordinary and extraordinary". In other words, prudence is accurately and successfully exercising rational nature in all things. 
The natural law inclines us to be prudent within the natural order of things, for the supernatural purpose of attaining eternal life. Aristotle claimed "As the man is, so he sees." Aquinas elevated this Aristotelian principle to "as a man is, so does the end seem to him." That quote has haunted me ever since I read it at Providence College. 
Why do moments matter? Recently I came across this phrase from a historian named John Dos Passos; "the idiot delusion of the exceptional Now that blocks good thinking." There are no moments more exceptional than another. What gives meaning to moments? People are the substance of moments, and people matter, they happen to matter a lot! And all people matter, so all moments do in fact matter! There it is, your last syllogism! 
I have been thinking about concluding moments a lot recently. I remember when my Grampy died. We were all there with him and unfortunately I left with my brother to go get coffee for everyone. I missed his final breath. But that did not negate all that he taught me. We may be present for some moments, and for others present yet somewhere else in our minds, but we never forget the relationships we have with those whom we love. And so, for all this rational inquiry, what remains most essential is the relational. Who and how we are to each other. I cannot climb the heights to that beatific vision alone; it takes all of you to get me there, and we need each other to help each other get there! 
Jesus was all about relationships! How come? Well, and I am going to shamelessly steal from Fr. Michael's bulletin message, God's identity is a relationship, a communion of persons: Father, Son, and Holy Spirit - the solemnity we celebrate tomorrow. 
And I want to leave you with his final words to the Father, words he spoke about all of you, all of us gathered here, and all of humanity - past, present, and future! Before completing His mission, Jesus prayed for relationships with Him and with each other.
"Lifting up his eyes to heaven, Jesus prayed saying: "I pray not only for these, but also for those who will believe in me through their word, so that they may all be one, as you, Father, are in me and I in you, that they also may be in us, that the world may believe that you sent me. And I have given them the glory you gave me, so that they may be one, as we are one, I in them and you in me, that they may be brought to perfection as one, that the world may know that you sent me, and that you loved them even as you loved me. Father, they are your gift to me. I wish that where I am they also may be with me, that they may see my glory that you gave me, because you loved me before the foundation of the world. Righteous Father, the world also does not know you, but I know you, and they know that you sent me. I made known to them your name and I will make it known, that the love with which you loved me may be in them and I in them." - John 17:20-26
Thank you for accepting the love of the Father! And thank you for accepting the love of this community, the love of your teachers, the love of me, and the love of your parents. And may you always aim to be in love with God and all our fellow men every day of your life. 
I say this to my own children every night before I put them to bed, so if you don't mind, I was going to make this moment even more awkward and say it to you, the Class of 2023: "May God the Almighty Father, Son, and Holy Spirit bless you and keep you in His favor this day and for all eternity."