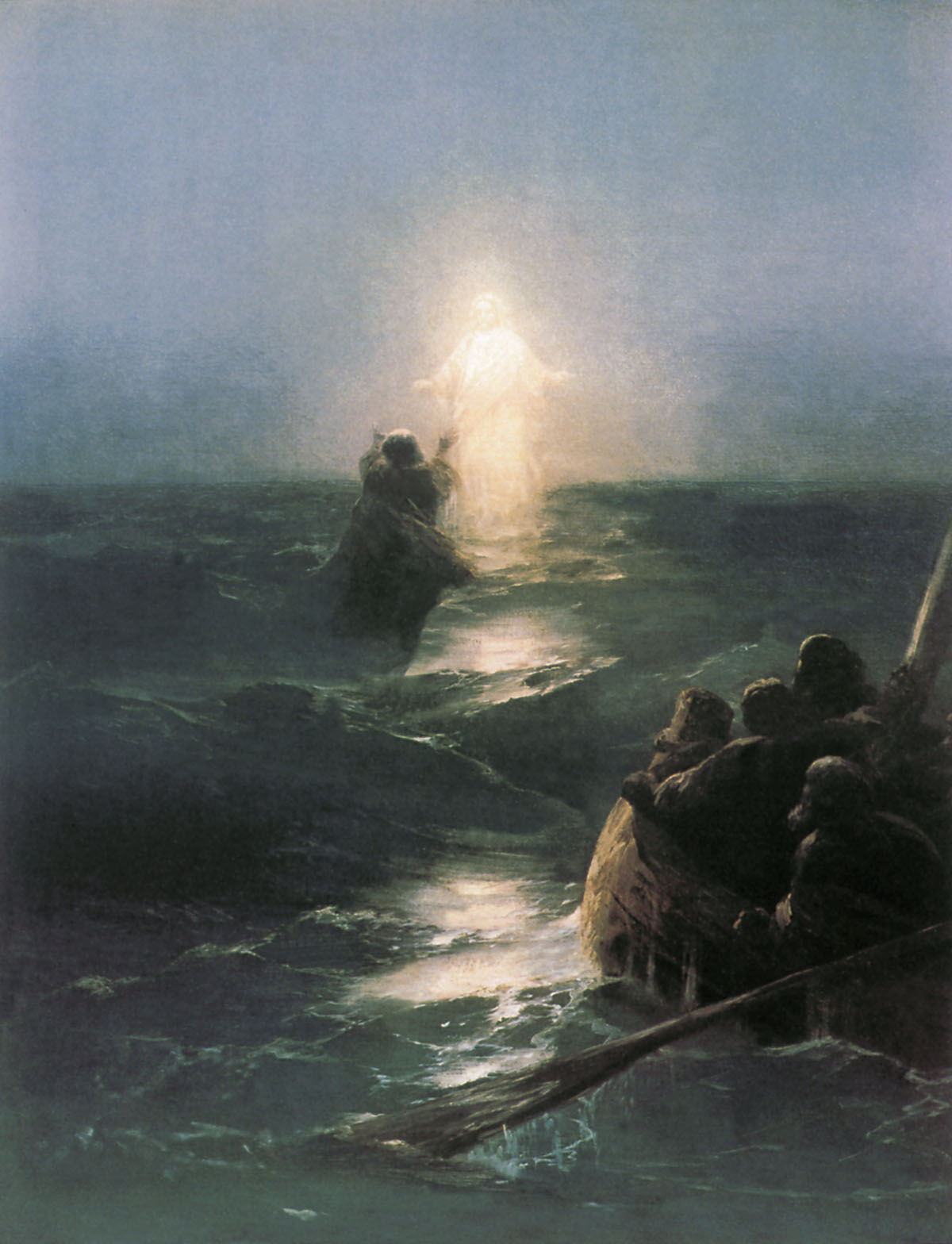 (Ivan Aivazovksy)
"Peter got out of the boat and began to walk on the water toward Jesus. But when he saw how strong the wind was he became frightened." Mt 14:29-30
I was struck by this incredible paradox in the Gospel at Mass recently. In two laconic sentences, Sacred Scripture details the life of faith. St. Peter shows great faith by stepping out of the boat, but this is immediately undermined by fear. No doubt countless saints down through the ages can identify with this experience. The first step of faith is often followed by a creeping fear that seeks to dislodge us from our narrow and perilous trek.
St. Peter's love for and faith in Jesus was true, but not yet perfected. For, as First John tells us, "Perfect love casts out fear." Thus, Jesus chides Peter about his weak faith (perhaps accompanied by a subtle smile) as He grasps him by the hand and leads him to safety. Is this not an emblematic scene to reflect on in these deeply troubling times? Faith in Jesus Christ is the antidote in this moment of fear as we are buffeted by the winds of pestilence, violence, and confusion. It seems to be the appropriate theological virtue upon which to anchor our academic year.
Faith is a theological virtue, which means that it cannot be acquired accept through grace. It is a free gift that is infused by God and enables one to believe in Him and all that He has revealed. It can be nourished by the believer in myriad ways, such as, cultivating the human virtues. A character formed in virtue has a great capacity for faith. Circumspection keeps one grounded. Humility fosters prayer. Fortitude withstands temptation and fear. Command encourages others. Courtesy dignifies. Good counsel deepens friendship. Perseverance engenders hope. Self-control enables self-gift. May we all grow in faith this year by God's grace and our own striving to lead lives of virtue.
September- Circumspection
October- Humility
November- Fortitude
December- Faith
January- Command
February- Courtesy
March- Good counsel
April- Perseverance
May- Self control