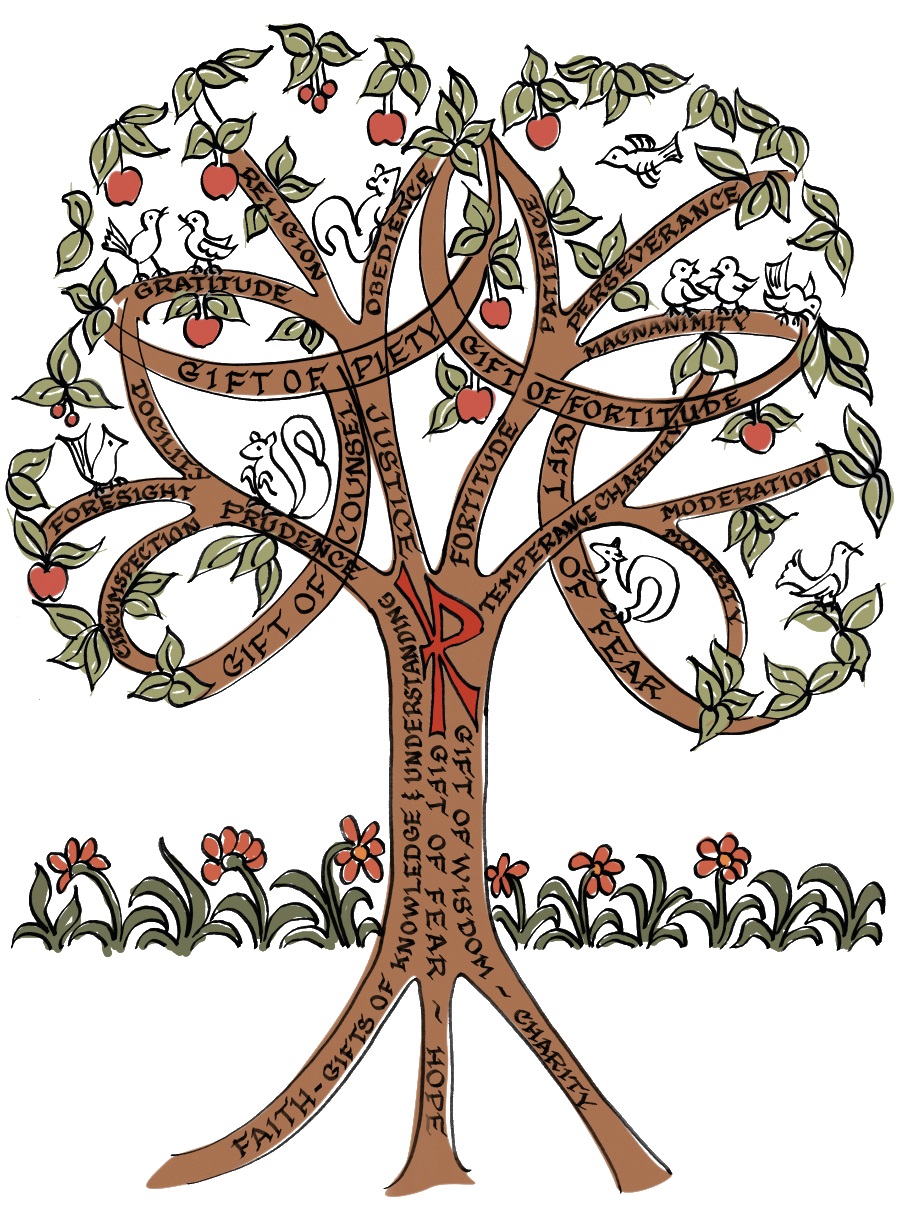 There is a lesson in the Faith and Revelation textbook we have been using in the 9th grade theology class that captures the truth about human virtues. In discussing Pontius Pilate, the text describes him as a sympathetic and conflicted character. He is the embodiment of the virtues of Rome. The pagan culture of Rome exalted the life of virtue. Pilate would have been well versed in fortitude, temperance, prudence, and justice. However, in his encounter with Christ, those human virtues revealed their limitations. When faced with the dilemma of executing an innocent man, Pilate chose pragmatism over justice. He chose to appease the crowd. (see Mark 15:15)
Virtue is vital to a good life. That is why the monthly virtue program is essential to our mission. Every one of us needs a daily reminder to pursue virtue. However, as the Catechism of the Catholic Church states, "Human virtues acquired by education, by deliberate acts and by a perseverance ever-renewed in repeated efforts are purified and elevated by divine grace. With God's help, they forge character and give facility in the practice of the good." (CCC 1810) Pilate may have missed his moment of grace, but praise God, we have recourse to the sacramental life. This astounding gift is the indispensable ingredient in building a virtuous character. Human effort is not enough.
Not only do we pursue virtue through education and perseverance during the school year, we nourish our journey with sacramental grace. Weekly Mass, Confession, and the Rosary have been the backbone of our spiritual life on campus. This year, we are pleased to announce the addition of the daily recitation of the Divine Office (Lauds) that will begin the day for grades 6 through 12. The grace that comes through these avenues works with our individual efforts. It preserves and perfects virtue in our souls.
From the first, the Church recognized the wisdom of practicing the human virtues and incorporated them into the life of faith. Just as in Christ the human and divine natures are joined, so in the Christian life, the theological virtues of faith, hope, and charity are joined to the human virtues of prudence, temperance, justice, and fortitude. These theological virtues are infused through the sacraments and cannot be acquired by human effort. They are a free gift from God that cannot be merited by us.
Every year, we compile a sequence of virtues to highlight throughout the school year that will aid us in our mission. Each of these virtues save one emanate from the cardinal (or human) virtues. The sole exception is a theological virtue that appears in December. This year that virtue is hope. There is perhaps no other more necessary virtue at this time.
Once again, the Catechism says it best, "Hope is the theological virtue by which we desire the kingdom of heaven and eternal life as our happiness, placing our trust in Christ's promises and relying not on our own strength, but on the help of the grace of the Holy Spirit. 'Let us hold fast the confession of our hope without wavering, for he who promised is faithful.' 'The Holy Spirit . . . he poured out upon us richly through Jesus Christ our Savior, so that we might be justified by his grace and become heirs in hope of eternal life.'" CCC(1817)
2021-2022
September- Affability (justice)
October- Docility (prudence)
November- Prayerfulness (justice)
December- Hope (theological)
January- Perseverance (fortitude)
February- Orderliness (temperance)
March- Meekness (temperance)
April- Magnificence (fortitude)
May- Gratitude (justice)