The Class of 2023 recently completed their senior thesis defense presentations. This annual event is the capstone of our high school liberal arts curriculum. The mission of the school is crystallized at this moment each year. Seniors are tasked with selecting a voice from the tradition. It could be an author from our canon or one of particular interest to the student. Topics included the formation of character and virtue through athletics, critiques of Sanger's eugenics ideology and Rousseau's political theory, the shallow beauty of aestheticism, and unnatural human isolation. A full list is presented below.
In a refinement of the process, these presentations took place over the course of three weeks. Parents, faculty, and students from junior high and high school assembled in the St. Joseph Center as four or five seniors presented. After each presentation, faculty members probed the presenter with questions. Each member of the senior class sought to distill the authors' themes and test them against the truth. Their task was accomplished with poise and professionalism. The entire school community can take pride in their achievement. 
A special note of gratitude goes to Mr. Bean for his leadership throughout this process. Over the course of the year he guided these students and advised the development of their thesis. For each weekly presentation, he set the tone of the proceedings. We would not have success without his efforts.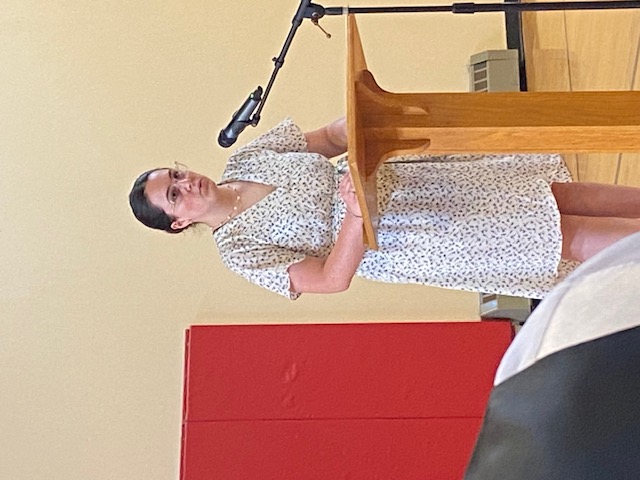 Alice Breisch, A Tale of Two Cities: The Cyclical Nature Of Class Oppression
Dylon Bugbee, Patriotism in the Charge of the Light Brigade: An Exposition
Garret Bugbee, Trickery: Where Does One Draw the Line?
Nonah Dowsett, Grace and Vice: An Analysis of C.S. Lewis's "The Great Divorce"
Brian Heacock, Utopia: Imperfection in a Perfect Society
John Fraioli, St. John Paul II on Sports: Why Christians Should Value Athletics
Luke Kalpakgian, Loyalty: The Big Brother of the Human Heart
Susan Kanu, We Have Forgotten Who We Are: The Theme of Isolation in Robert Frost's Poems
Maryrose McLaughlin, Erroneous Anthropology: A Critique of Jean-Jacques Rousseau
Anya Moorehouse, Holding Back Society: A Critique of Sanger's "Human Waste" Theory
Emma Stone, A Dark Twist on Fairy Tales: Studying a Characteristic in MacDonald's Work
Julia Stout, F. Scott Fitzgerald in the Jazz Age: Depravity and the American Dream
Annemarie Sweet, The Destruction of Art: A Critique of Oscar Wilde and Aestheticism
John Paul Treece, Equestrian Punishment: An Analysis Of Revelation