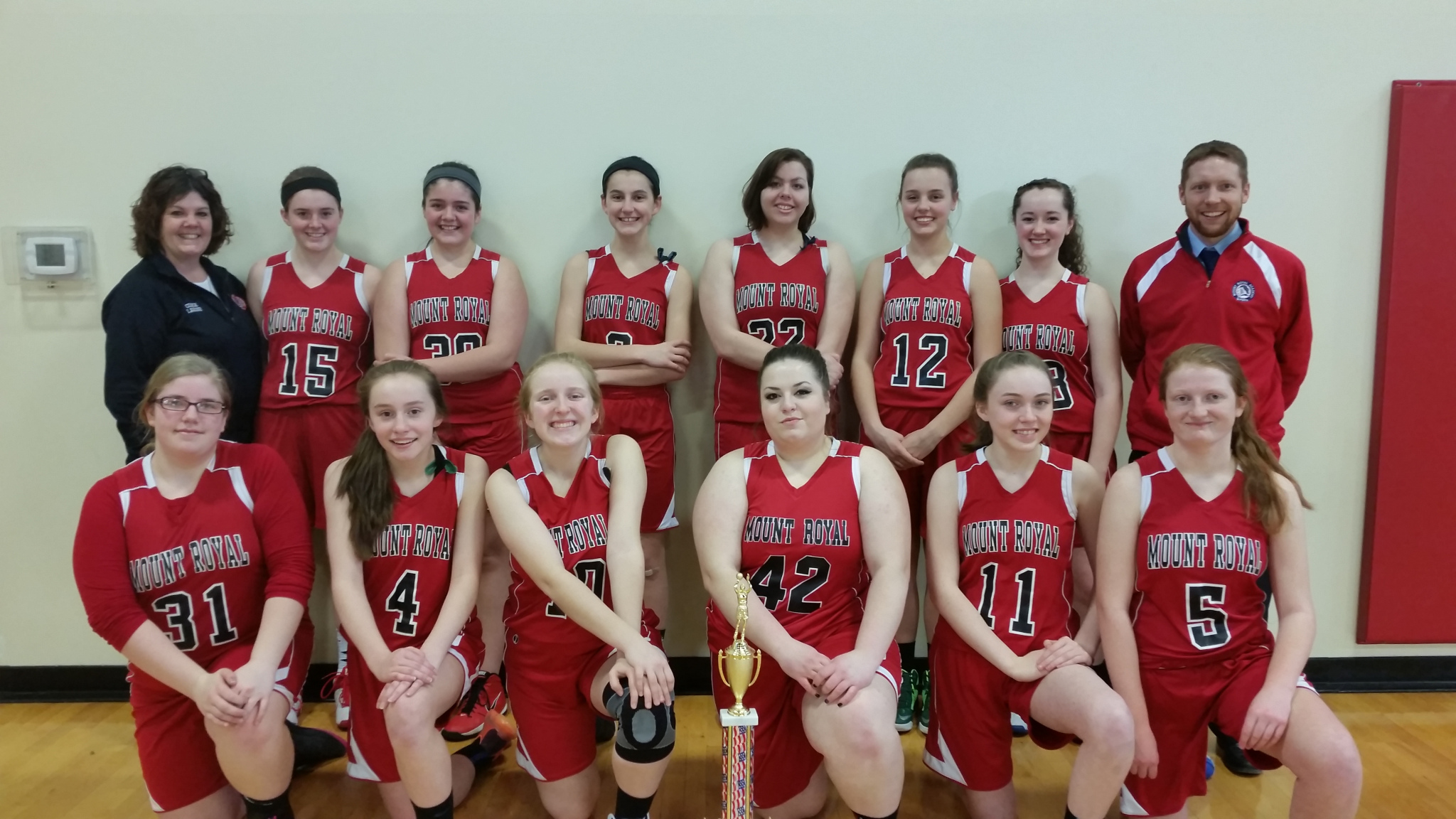 The Lady Knights of Mount Royal Academy finished their 2016 season with the school's first ever high school championship. The girls' basketball team won the 2016 Granite State Conference Junior Varsity tournament down at Pittsfield Middle High School on February 23rd. MRA entered the tournament for the second consecutive season as the number one overall seed (12-3). The Lady Knights finish the season at 14-4 overall, as they were able to put last year's defeat in the championship game behind them, proving to be strong contenders even though MRA is the smallest school in the entire NHIAA.
MRA defeated Moultonborough (6-4) in the semi-final game by a score of 30-25. Tenacious defense, strong rebounding, and a dominating fourth quarter (15-4 run) solidified MRA's return to the championship. Jacinta Hogan scored 9 points in the decisive final quarter, giving the Lady Knights just the spark they needed.
The championship game featured the top two seeds, as MRA played an unfamiliar foe, the Epping Blue Devils (8-3). Epping was skilled at all positions, and their fast paced offense was difficult to handle. There were eight different scorers for the Lady Knights, and although the Lady Knights never trailed, it was a particularly competitive matchup. MRA started the game on 10-0 run, but after the Blue Devils settled down, the teams exchanged baskets for the duration of the game. The final score was 48-42, as the Lady Knights clamped down on defense the in the final minutes of the game.
Marylin LaRose was named to the All-Tournament Team because of her excellent all-around play. She was tough on the glass, scored critical baskets, and racked up several assists by drawing opposing defenders and dishing to open teammates.
Cheyenne Bentley was also named to the All-Tournament Team, largely because of her defensive prowess. She likely led the tournament in rebounds and blocked shots, and her offensive put-backs kept the pressure on for the Lady Knights.
Alexis Matte was named Most Valuable Player for the tournament, and she also won the 3-point challenge. Her ball hawking skills on defense, outside shooting, and command of the offense set the pace for the Lady Knights.
After another successful season, the Lady Knights look to the future, with a young core and a very coachable group of girls eager to learn and work hard for the sake of a greater good.