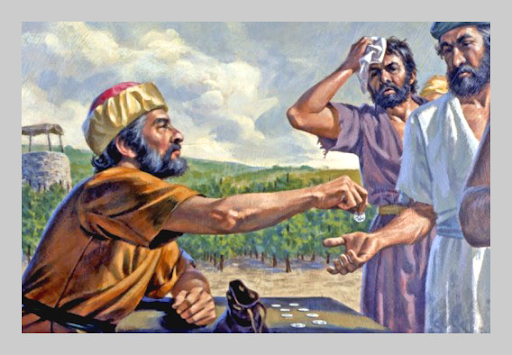 "There was a rich man, who was clothed in purple and fine linen and who feasted sumptuously every day. And at his gate lay a poor man named Lazarus, full of sores, who desired to be fed with what fell from the rich man's table; moreover the dogs came and licked his sores." - Luke 16: 19-21
Last Sunday at Mass, we heard the story of Lazarus and the rich man.  It is an uncomfortable story about a rich man who ignores the beggar at his front door.  When they die, the beggar goes to heaven – the bosom of Abraham– while the rich man ends up in hell.  The rich man begs Abraham to send Lazarus to his family as a warning to them.  Abraham reminds him that they have Moses and the prophets to guide them, but the rich man insists that they won't listen to Moses and the prophets, but "if someone goes to them from the dead, they will repent." (Luke 16:30) Abraham's final words are chilling: "If they do not hear Moses and the prophets, neither will they be convinced if someone should rise from the dead." - Luke 16:31
The rich man had a beggar at his front door, yet did not heed the words of Leviticus 25:35, "If your brother becomes poor and cannot maintain himself with you, you shall support him as though he were a stranger and a sojourner, and he shall live with you."
I began to reflect on how often I, who has not only Moses and the prophets, but also Jesus, the gospels, and the Eucharist, fail to follow the guidance God, in his goodness and mercy, has provided for me.  This is a very uncomfortable thought, indeed.
Father went on to say that Jesus' parables are meant to be disturbing.  They are meant to irritate us, rub us the wrong way, and startle us out of our lethargy.  The Prodigal Son, The Good Samaritan, and the Laborers in the Vineyard, for example, all contain elements that are uncomfortable or even disturbing. They push us out of our comfort zone and force us to grow in wisdom or virtue, to view people or situations from a different perspective, or to simply surrender our circumstances and trust the One who loves us fiercely.  Without challenge, we stagnate. 
Of course, it is an easy segue from challenging parables to the rigors of academic life.  The struggle to assimilate multiplication tables, conjugate Latin verbs, diagram a sentence, construct a well-reasoned argument, or even learn how to be away from home for the first time causes us to be uncomfortable. It can even disturb or irritate us. 
However, in our academic life as well as in our spiritual life, our struggles typically prove to be the catalyst for growth.  Self-confidence and trust begin to blossom when we work through difficulties.  Most importantly, we learn that we can do hard things. Being uncomfortable, challenged, or even irritated is not an indication that one should give up, or that one is on the wrong path.  It is an indication that we may need to stretch ourselves, view things from a new perspective, and try harder.  
The cross is never easy, but it is the key to our salvation.  The cross is uncomfortable and irritating, to say the least; it is also disturbing.  However, the cross never comes without Jesus on it.  He never promised to take our sufferings away, but he did promise to be present in them.
I am blessed to be able to witness this "overcoming of struggles" in my daily work.  PreK students who clung to mom or dad at drop off the first week of school now bounce out of their cars with smiles on their faces and walk into the building on their own.  Elementary students have mastered their new routines and are well into the heart of their learning. Junior high students are becoming more independent and are learning to be responsible for their own learning. High schoolers are maturing into young adults ready to face their futures.
They are sometimes uncomfortable and even irritated.  But, they are learning that they can do hard things and that it is ok to feel uncomfortable or challenged at first, but that they can and should keep trying.  
We can learn so much from our students!
But Jesus called them to him, saying, "Let the children come to me, and do not hinder them; for to such belongs the kingdom of God." - Luke 18:16
- Mrs. Lisa Sweet, Academic Dean