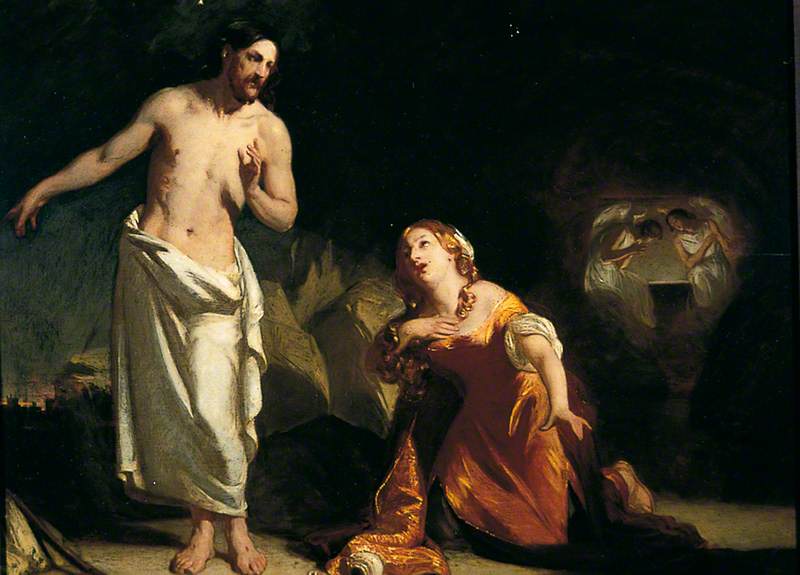 Dear Families, Faculty, and Patrons,

The Paschal narratives are filled with innumerable insights, and even the Gospel writers themselves intentionally emphasize certain revelations about Jesus' final moments on earth. The Church has always understood John's gospel to be deeply symbolic, but also highly Christological. Jesus' interactions with his own disciples, Pilate, and Caiaphas indicate that he is fully aware of his mission and remains in complete control of his destiny. Nevertheless, Jesus willfully submits to the Father's plan to reverse the harm caused by the First Adam. The symbolic imagery is striking: humanity is lost, saved, and redeemed in a garden, and John the evangelist has a front row seat.

John's sense of detail ought to conform to the modern obsession with facts, but for some reason, we moderns have a difficult time accepting the testimony of this ancient text. If we return to that garden, I think we can find out why.

I often associate myself most closely with Mary Magdalene, struggling to find Jesus at times. She is referred to as "the Apostle to the Apostles," as John's gospel depicts Mary to be the first disciple to encounter Jesus after the resurrection, which even recent popes have pointed to in order to highlight the significance of the feminine genius. But Mary doesn't recognize Jesus at first. Mary, who with John and the mother of Jesus, stood by Jesus at the cross, fails to see Jesus because of her grief. Her hope is lost, until Jesus addresses her directly. The key here is even though Mary was seemingly without hope, she was still looking for Jesus. The account is worth a re-read:
But Mary was standing outside near the tomb, weeping...
As she said this she turned round and saw Jesus standing there, though she did not realize that it was Jesus. Jesus said to her, 'Woman, why are you weeping? Who are you looking for?' Supposing him to be the gardener, she said, 'Sir, if you have taken him away, tell me where you have put him, and I will go and remove him.' Jesus said, 'Mary!' She turned round then and said to him in Hebrew, 'Rabbuni!' -- which means Master. Jesus said to her, 'Do not cling to me, because I have not yet ascended to the Father. But go to the brothers, and tell them: I am ascending to my Father and your Father, to my God and your God.' (John 20:11-17). 
We generally don't look for things unless we think we can find them. If we lose our car keys, we know we had them them in the first place, so we continue looking until they are found. The unfortunate reality today is that society is losing hope because it isn't searching anymore.
The virtue of hope responds to the aspiration to happiness which God has placed in the heart of every man; it takes up the hopes that inspire men's activities and purifies them so as to order them to the Kingdom of heaven; it keeps man from discouragement; it sustains him during times of abandonment; it opens up his heart in expectation of eternal beatitude (CCC 1818). 
Living a hopeful life is only possible when we know what we are looking for. Regardless of religious preference or lack therefore, every human is hard-wired for God. The theological virtue of hope has been a focal point for students this year, because we all recognize the need for hope in a society that is becoming more and more hostile to human dignity.
St. John Paul II answered a blunt question in an book written 16 years into his papacy entitled Crossing the Threshold of Hope: "Is there really hope in the young?"
I would like to sum up by stressing that the young are searching for God, they are searching for the meaning of life, they are searching for definitive answers: "What must I do to inherit eternal life?" (Luke 10:25). In this search, they cannot help but encounter the Church... It is also necessary that the young know the Church, that they perceive Christ in the Church, Christ who walks through centuries alongside each generation, alongside each person. He walks alongside each person as a friend. An important day in a young person's life is the day on which he becomes convinced that this is the only Friend who will not disappoint him on whom we can always count.
This Easter, let us pray that like Mary Magdalene, our young people may come to know that Jesus is always walking with us, even if he goes unrecognized. And may our prayers increase the fervor with which the youth search for God, so they may enter the Garden of Paradise that is Heaven, the only happiness that truly fulfills our hope.
May your families enjoy a blessed Easter.
Yours Truly In Christ,
Derek Tremblay
Headmaster