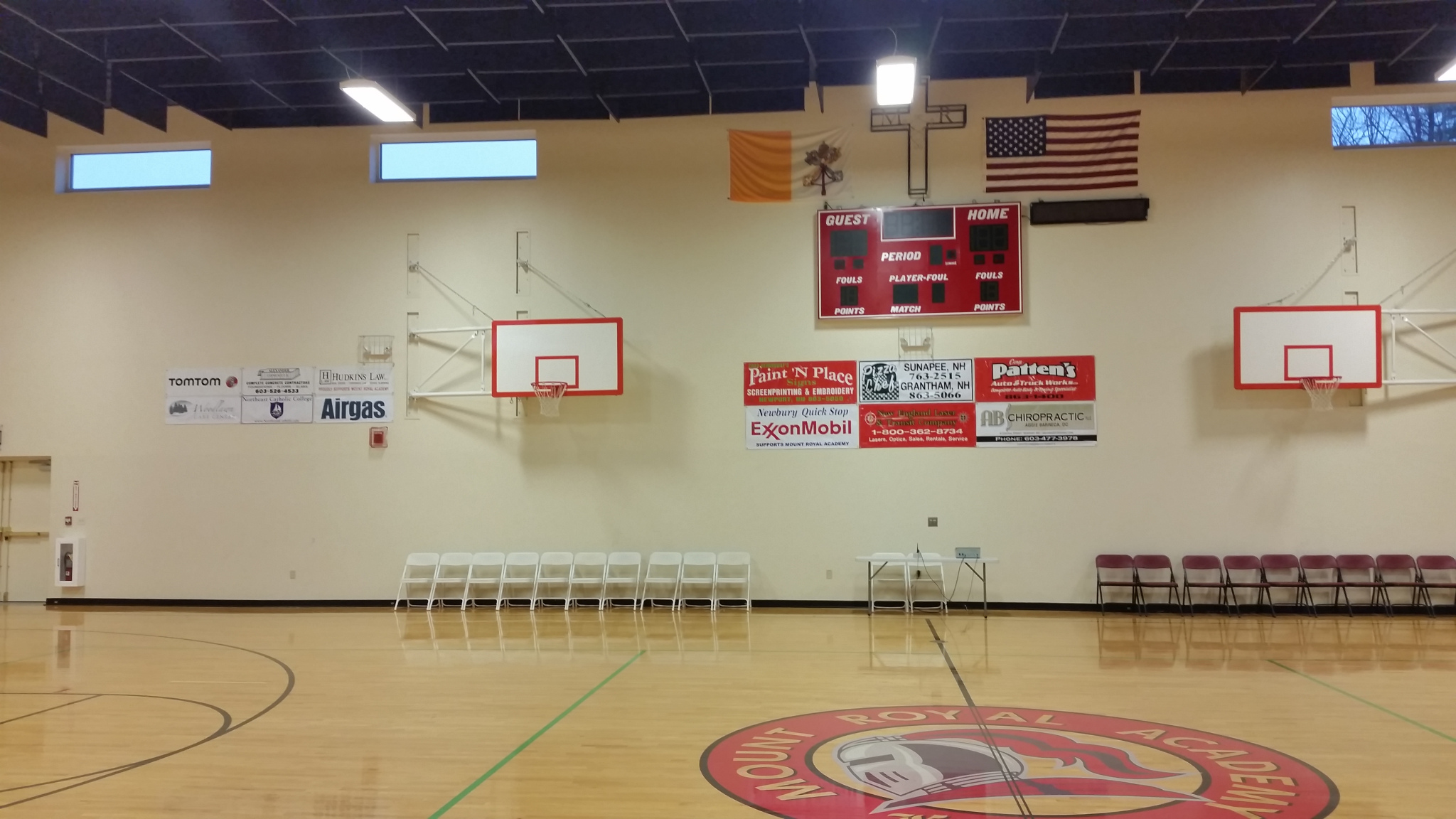 The iconic David and Goliath story provides an apt backdrop to a school that has remained largely unnoticed in the Lake Sunapee Region. Since 2010, there has been a determined effort to build a sustainable and competitive basketball program at Mount Royal Academy. Originally, there was only one boys' basketball team, consisting of students in grades 7-12. Now, the basketball program is grateful and pleased to announce that the Knights of Our Lady will be competing at the varsity level in the NHIAA.
Since joining the NHIAA in 2012, the high school girls and boys competed against junior varsity teams. MRA is the smallest school in the NHIAA; back in 2012, there were barely 30 students. Now, there will be over 60 students in the high school, but the school still claims the title of least likely to be competitive due to size. But the size of the student population is by no means an accurate indicator of the courage or heart of the student-athletes.
The JV girls in fact won the 2016 Granite State Conference Junior Varsity tournament down at Pittsfield Middle High School. And the boys' basketball program features a talented, young core of student-athletes.
"This is a big deal for our school. We know that it will not be easy, but going varsity is part of a larger plan to improve our mission. Young people need to learn how to practice virtue in the face of adversity, and competing at the varsity level will give our students another opportunity to rise towards a higher standard of excellence. We believe that if we keep first things first, and focus on the ultimate purpose of athletics – which is to form young people into adults with a moral compass – then our program will continue to be successful." These were the reflections of Headmaster Derek Tremblay, who will coach the girls team next year.
Andrew Mihaly, the school's Athletic Director, echoed the same thoughts: "I am extremely excited to help lead the community into a new level of competition. A varsity basketball program will allow our student-athletes to continue to strive toward excellence in both academics and sports. This is a big step for Mount Royal Academy; however, I am confident that our community will rise to the challenge."
Parents are also very enthused about the future. John Normandin, a father of three boys already involved with the basketball program said, "This is an exciting step forward for the Mount Royal Academy athletic program.  We have watched the sports programs grow and improve every year.  Many of our kids have been in the basketball program for several years and being able to compete at the varsity level is a great opportunity for them."