The life of an Athletic Director is consumed by scheduling, scheduling, and more scheduling. Now add creating a new website for a league featuring over 100 basketball teams, as well as a full-time teaching load, and you can imagine that managing time, acting efficiently, and engaging in real interactions with colleagues, parents, and students is somewhat impossible.
Andrew Mihaly is able to do it all, and do it all very well.
His efforts were recently recognized by the Merrimack Basketball League. Mr. Mihaly was named 'Volunteer of the Year' by the community of directors, coaches, and parents. MRA joined the MBL just four years ago, knowing that collaborating with other programs was a pre-requisite to providing formative and meaningful athletic opportunities to young people.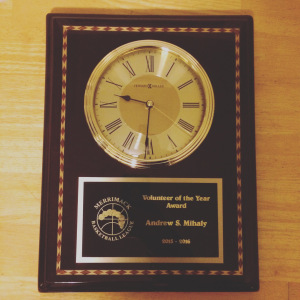 Upon receiving the award, Mr. Mihaly said the following: "I would like to thank the Merrimack Basketball League for honoring me with this award. Many thanks to the coaches who were instrumental in helping me facilitate tournaments and games this season. It is truly a privilege assisting the Merrimack Basketball League, continuing to provide opportunities to families in our local communities and fostering a love for the sport."
We are thankful for Mr. Mihaly's dedication not only to the student-athletes of MRA, but also young people all over central and southern New Hampshire.